Fully Customize Your Apron
Customize In 4 Easy Steps
Custom Fabric Aprons
Custom Polyester Aprons
Custom Cotton Aprons
Custom Denim Aprons
Custom PVC Aprons
Custom Canvas Aprons
Related Items
Brands That Trust Us
Why Choose Custom Aprons Now?
Your Kitchen, Your Apron, Just the Way You Like It
When preparing your favorite meals, the little details count. For instance, you'll need the right apron to keep you clean and protected when things get messy. So why not customize your own? With our customization process, you control every aspect of your apron design, including the color, material, and artwork. With full control, you can make your apron match your kitchen exactly how you want it.
Over 7 Different Apron Materials for Safety, Aesthetics, and Cleanliness
The perfect apron starts with choosing the best material. Some like to cook wearing polyester, while other chefs prefer cotton. When you choose Custom Aprons Now, you can access more than seven types of apron materials, including cotton, polyester, PVC, denim, canvas, and printed yarn. While some might be the better aesthetic choice, others might go for thicker materials where protection is a paramount consideration.
Represent Your Kitchen's Brand, Reach New Customers
By designing your apron with Custom Aprons Now, you can display your restaurant's logo and brand for all to see. All of which will make you look like a team and leave customers with a good impression of your firm. Your custom apron with logo design uniquely promotes your business, helping you reach new clientele and stepping up brand consistency. We apply your logo to aprons and have various styles, including one-color, full-color, embroidered, and woven imprints. In other words, we make it really easy for you to look professional and communicate your band for all to see.
Look Good in More Ways Than One
Above all, our aprons are reliable. Made from quality materials, they keep you clean and protect you when things get hot or messy. You'll not only look great while cooking in it, but you'll be nice and clean when you take it off. Designing your own custom apron with us means you look good both inside and outside the kitchen.
A Perfect Gift for Any Chef
It doesn't matter whether you're running a Michelin-star kitchen or just baking with the family, customized aprons are an amazing gift. They're an especially thoughtful way of showing appreciation to someone special for their home-cooked meals. Our customization process lets you design your apron with your favorite colors, materials, shapes, and styles. They're the ideal gift for any chef because they're customizable for specific tastes.
Fast Delivery and 24/7 Support
We know that you want your aprons as soon as possible. If a birthday is coming up or you need them for your business' grand opening, you can always select from multiple guaranteed delivery dates after designing your apron.

We also offer 24/7 support in case you need help in designing your apron and choosing the right style.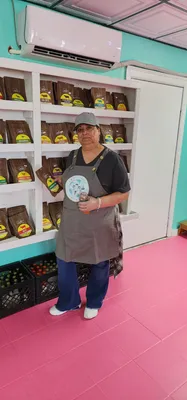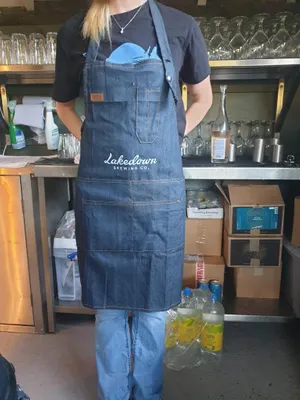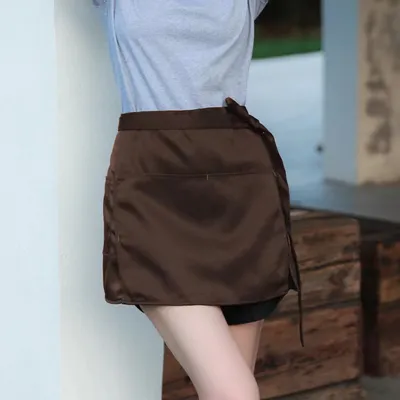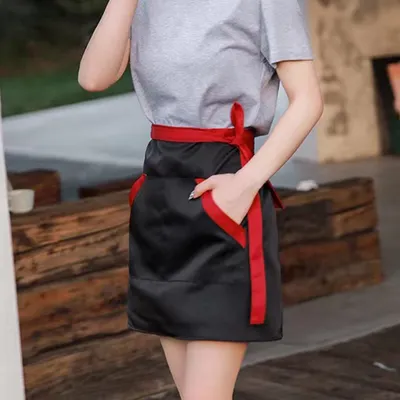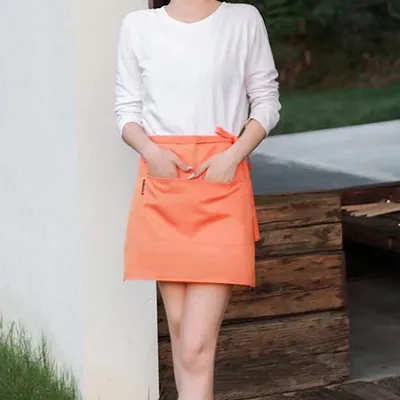 What are your minimum orders?
For the most part, we have a minimum order of five aprons. We also offer denim hairdressing aprons with a minimum order of one. This makes buying aprons for a team of chefs at once easy.
What is the standard turnaround time for the custom aprons?
The exact turnaround time for our custom aprons depends on your chosen guaranteed delivery date. After selecting and designing your apron, you can select from various dates before completing your order.

Please note that we'll send you proof of your design once it is created. Upon approval, we can begin the production process.

Any delay in approving the design can influence the final turnaround time.
What fabrics do you use?
We wanted to give chefs lots of customization options for the best product. That's why we offer various fabrics, including cotton, polyester, PVC, denim, canvas, printed yarn, and more customizable materials.
Can I modify the length of my aprons for my order?
You can select your apron length while choosing your material but not afterward. You can find various lengths and materials on our homepage.

For example, we have a range of lengths for denim aprons, including half waist, extended length, and lengthy mid waist.
How much is shipping?
You can check the shipping price upon choosing a guaranteed delivery date for your apron. We're using the fastest methods to get your aprons to you as soon as needed.

Please note that we'll need the actual physical address for delivery rather than a PO box.
Can I return a custom apron?
If you're not satisfied with your custom apron design and think that it's missing accessories, is incorrect or defective, then you can send us the product images at
(return@customapronsnow.com)
along with a description of the problem.
Once we confirm the error, we'll dispatch the correct order. However, we won't be able to make customization changes regarding material, logo, and artwork.
Please remember that you have a window of 30 days from the delivery date for filing a return complaint. To claim a full refund, you'll need to ship the product back to us at your own expense. Be aware that it will take seven to ten business days to refund the order once it has been returned.
What is the most popular apron design?
The most popular apron design usually depends on your specific needs and purpose. Our solid color printable apron is popular because it provides good coverage and offers a great template for your favorite designs.

Concerning protective material, thicker options like canvas, cotton, and denim tend to be more popular. They ensure that you stay clean and protected while in the kitchen.
How long does it take to ship my order?
The typical production time is three to five days. Shipping your order will depend first and foremost on your selected guaranteed date. After finishing your design, you can choose from various options for delivery.

We'll then send you the proof of your apron. Once approved, we can move on to producing the order and shipment.
Testimonials:
This is what some of our clients think about our products
The craftsmanship of these Canvas Aprons is remarkable. The quality of the fabric and attention to detail, especially during the customization stage, makes them stand out in any setting.
- Dorthea Pamplin
Top-tier quality in these custom PVC aprons. The material is substantial and long-lasting. They're comfortable to wear and ensure a mess-free experience. worth the buy!
- Mana Kimble
I'm thoroughly satisfied with these custom canvas aprons. The material's durability and the personalized design make them both functional and stylish.
- Norman Pendarvis
I can confidently vouch for the quality of these custom PVC aprons. Aside from its amazing appearance because of customization option, They're heavy-duty, comfortable, and easy to clean. A great investment for messy tasks. Will buy again in the future!
- Dorian Conn